Lavasoft's Ad-Aware Free Antivirus+ has been esteemed anti-spyware software for years and that merit is truly deserved.
The user interface is so simple that a newbie would love to work with it. Any anti-spyware software has to come up with updations, Lavasoft's Ad-Aware Free Antivirus+ is of no exception.
Lavasoft's Ad-Aware Free Antivirus+ is not new. With its ultra-modern research labs, Lavasoft is continuously developing itself into a comprehensive security data center. By virtue of this, spyware threats are detected in real-time.
Lavasoft's Ad-Aware Free Antivirus+ is powered by the industry best antivirus technology from Bitdefender and its own antispyware. Thus, it's known for the highest detection rate.
Adaware Antivirus Free for Windows
By title, one would be confused that Ad-Aware Free Antivirus+ is just an anti-adware, but in reality, the software program is all-in-one solution. It provides comprehensive protection against all forms of malicious programs like spyware, adware, trojans, dialers, backdoors, worms, parasites, web bug traces, etc.
What we found out that it is updated a minimum of 3-4 times per week. It has a good spyware definition database that works effectively against the most critical new spyware. This unique free anti-spyware program checks even the minute part of the windows registry. It thoroughly scans all the local files and folders, web browser cookies, etc.
Interestingly, this free anti-spyware not only creates the backup of registry entries but also the removed ones. It's tough against the running processes too. Ad-Aware Free Antivirus+ has many user-friendly customizable features. One can schedule system scans and even delete the infected files at a later date.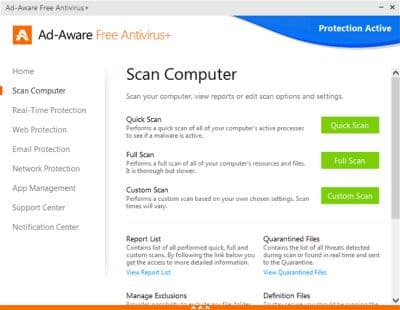 The software has a lot of flexibility and the anti-spyware software has 3 scan modes namely Quick Scan, Full Scan, and Custom Scan. If you are short of time, then Quick Scan is recommended which gets completed within 2-3 minutes. Full Scan is a thorough scan that requires 20-25 minutes depending upon your database. Both the scan modes are equally good and effective. If you are more technical, then you can even scan by folder or file wise.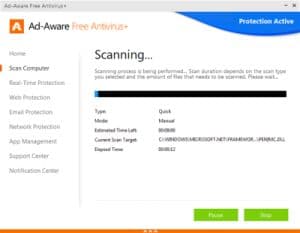 The researchers behind Ad-Aware Free Antivirus+ have made it possible that it will block the spyware even before it gains access into the PC. The real-time shield system feature of Ad-Aware Free Antivirus+ software safeguards your PC against malicious ActiveX controls that some websites attempt to install. Thus you have perfect control over the settings of homepage, bookmarks and favorites list. No more browser hijacks and pop-up ads.
Millions of Satisfied Users
There are over 390 million users established with excellent customer tech support. Recently, Ad-Aware Free Antivirus+ has even launched Malware Sandbox Emulator that analyzes malware in a virtual environment. Moreover, this top-class anti-spyware offers an unconditional 100% money-back guarantee for its PRO security version, thus a safe decision to download.