IObit Malware Fighter is a masterpiece product from the world's most renowned company IObit.
IObit Malware Fighter has a very user-friendly interface that a newbie can easily operate. It has been providing timely and advanced spyware removal techniques for years.
This unique free anti-spyware software is probably the fastest spyware scan scheduler we have ever tested.
IObit Malware Fighter for Windows
IObit Malware Fighter clearly shows the severity of the spyware detected making it much worthwhile. Besides being an anti-spyware, it also cleans the windows registry and repairs the errors. It also allows you to take back up of the compressed files before removing them.
Compared to other banded anti-spyware software, IObit Malware Fighter took less than 190 MB of disk space. Moreover, it consumes lesser CPU resources working silently in the background.
It has a huge database of more than 225,000 (maybe largest in the industry) spyware definitions that thoroughly scans your PC for all the spyware and adware threats including keyloggers, parasites, trojans, web hijackers, pop-up generators, spy bots etc.
The USP of IObit Malware Fighter program is it also functions as the windows registry cleaner and repairs the errors. Its user-friendly interface has made it very special so that an even a non-techie can easily manage and configure it. Moreover, you need not worry about automatic updates and features.

Just schedule the task and scan as per your preferences. If you're specific in scanning a particular drive or folder, you can do with IObit Malware Fighter. Moreover, you can even configure the scan depending upon the time you spend before your PC.
Otherwise, with just 2 mouse clicks, you can scan your entire PC for the possible online spyware and adware threats.
Best of all, its online resources mainly blog and help files are really incredible. They just update you with the latest news about the spyware.
With excellent tech support (24/7/365) and 60-day 100% money back guarantee, you cannot go wrong with IObit Malware Fighter 6 PRO. Indeed, it is the perfect anti-spyware software that safeguards your windows PC round the clock.
IObit's 14th Anniversary Celebration Special Offer!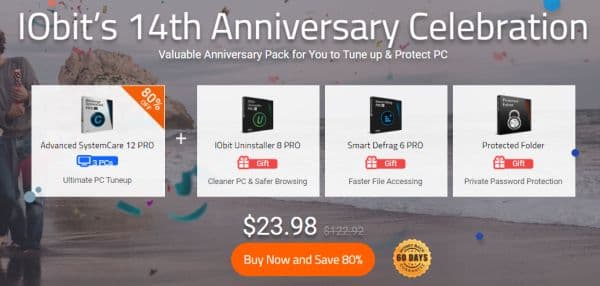 Receive a full version of Advanced SystemCare Ultimate 12, absolutely FREE as our gift to you, when you register now for IObit Malware Fighter PRO. It's a limited time offer. Grab it!
Don't lose heart if the offer is no more valid but still you can't go wrong with IObit Malware Fighter PRO.