Advanced SystemCare PRO is a full-featured registry cleaner software that is purely meant for repairing windows errors at lightning speed.
Truly, it is a great program that makes the registry cleaning an easy affair. The main USP of Advanced SystemCare is its high detection rate. Only a few top class registry cleaners have this extraordinary feature.
With its award-winning detection, Advanced SystemCare free registry cleaner application thoroughly scans the PC for registry errors and fixes them with a few mouse clicks.
Automatic & Advanced SystemCare 12 PRO
Advanced SystemCare 12 PRO is extremely simple to use and navigate. It has some stunning features that make it an effective windows registry cleaner. Apart from the regular features like deep windows registry clean, ultimate system tuneup for top performance, real-time optimization with active optimize, Advanced SystemCare 12 PRO supports over 20 smart tools for daily PC maintenance.
What we found out that it is updated a minimum of 3-4 times per week. It has a good spyware definition database that works effectively against the most critical new spyware. This unique malware removal program checks even the minute part of the windows registry. It thoroughly scans all the local files and folders, web browser cookies etc.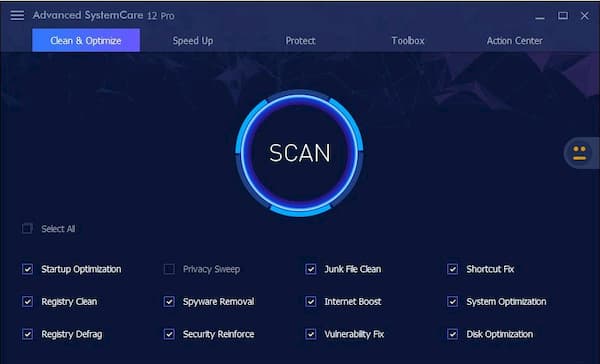 If you go into the depth, Advanced SystemCare PRO optimizes the PC performance by checking program shortcuts, invalid user software settings, application paths, class keys, shared known DLL's, file associations, start menu items and other invalid and missing registry entries. Truly, an All-in-One PC care service.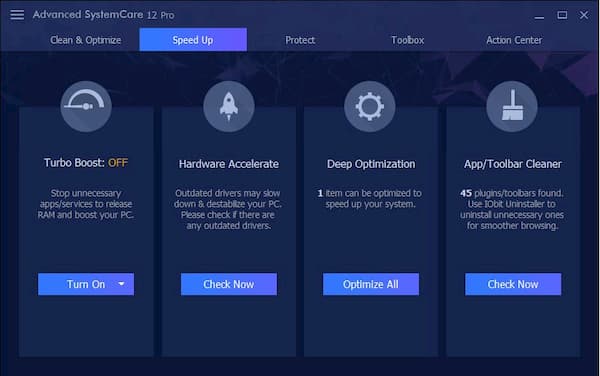 Safer & Faster PC Response
Best of all, the latest version of Advanced SystemCare PRO is well supported by all the major operating systems including Windows 10/Win8/Win7/Vista/XP. Moreover, it has a full unconditional 60-day money back guarantee.
The only shortcoming of this free registry cleaner is the unavailability of live chat support. It has only a 24/7 email support system. Now, it has even got the most sought feature – Free 24/7 Technical Support on Demand. In simple terms, Advanced SystemCare has got everything for the PC to stand by its name and thus 120 million downloads worldwide.