Ashampoo WinOptimizer 2019 is the most popular all-in-one PC package with about 5 million downloads to date.
Ashampoo, German-based software maker, itself says that one should not compromise with the second best. With this one can judge the efficiency of the most acclaimed PC tuner software.
By using Ashampoo WinOptimizer regularly one can safely scan, clean and repair the registry errors with just a mouse click.
Ashampoo WinOptimizer 2019 PC tuner all-in-one software has won many awards from PC security experts and the research laboratories equally. This software is very easy to operate. It is a very user-friendly application starting from installation to taking registry backup and from repairing registry errors to maintaining a clean registry is now easy with WinOptimizer.
It's truly an incredible PC tuner program available online for new Windows 10.
Ashampoo WinOptimizer 2019 for Steady Performance of PC
Ashampoo WinOptimizer helps you to scan the Windows registry in just a few steps. Even if you are a newbie, you can easily scan the entire registry for any invalid entries. Moreover, you can selectively clean and repair each item manually or automate the whole process with a single mouse click.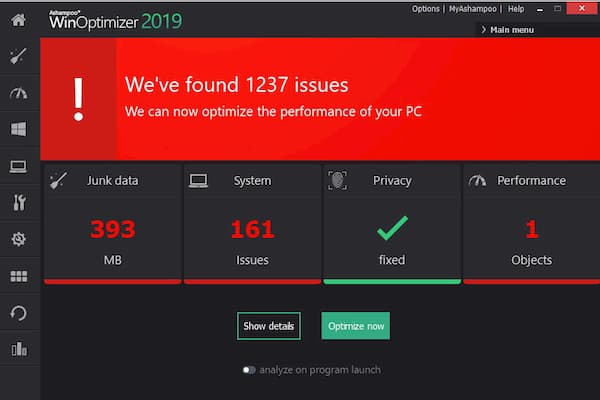 The concept formulated by Ashampoo WinOptimizer is very simple and straightforward. It fixes errors, automates PC optimization with task scheduler and protects your privacy by customizing Windows as per your needs.
The latest version of Ashampoo WinOptimizer has an inbuilt system optimizer and windows disk defragmenter tool that optimizes the files on the disk and improves the overall PC performance.
The new version has the Game Booster to give you the best gaming performance. To be in brief this award-winning free registry cleaner is/has …
Complete user friendly software for professionals and novice users alike.
Safely repairs invalid entries responsible for windows crashes
Remove orphaned references to improve OS performance and stability
Removes invalid and missing program shortcuts
Detailed scan results
Automatic windows registry backup and restore feature
Automatic background scan
Customizable scan that supports ignore list, schedule scan, manual registry repair feature
Encrypts sensitive data and protects privacy
Live Tuner 2.0 to accelerate applications more efficiently
Very low usage of PC resources (just 100 MB of hard disk space)
Excellent technical support
Unconditional 100% Money Back Guarantee
Compatible with the latest Windows 8
A Must Have Software to Optimize Windows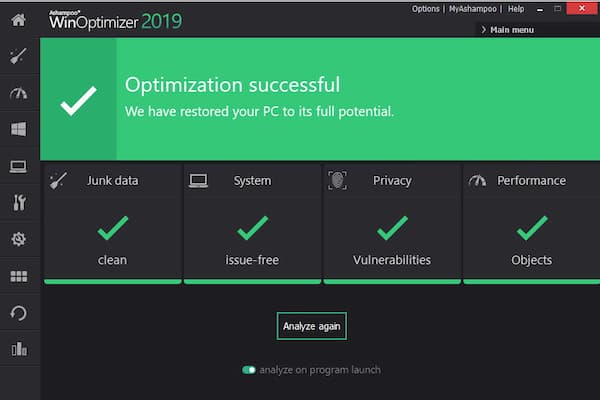 For your ease and safety, Ashampoo WinOptimizer provides the much-needed registry backup facility. You can easily restore the backup if you need to recover the change. You cannot go wrong with Ashampoo WinOptimizer 2019. It is highly Recommended by experts in various testing laboratories and discussion groups and adjudged the best free Registry Cleaner to use with ease.
Ashampoo WinOptimizer makes your operating system boot quickly and improves your PC performance. That's it. Registry cleaning is made simple by Ashampoo WinOptimizer 11. No more hiring of computer technician services. Just with a click of mouse or two, you can maintain a safe windows registry for yourself.
Download and scan your PC with award-winning free registry cleaner to repair windows registry and optimize PC performance.