SUPERAntiSpyware is the most comprehensive high technology anti-spyware software that is designed especially for common PC user, not just experts.
That may be the reason for winning so many awards in the security arena. It has been repeatedly awarded Editors' Choice by leading PC magazines and testing laboratories around the world for its continual improvement in anti-spyware protection.
Though it is a powerful spyware removal tool by technology, SUPERAntiSpyware has got a very user-friendly interface that can be easily managed by even an inexperienced user.
SUPERAntiSpyware Free Edition Download
SUPERAntiSpyware is a top-notch product of Support.com (an internationally reputed computer security maker) and has been in the market for years. When compared to its previous version, SUPERAntiSpyware 8.0 has been well streamlined to target spyware, adware, trojans, browser hijackers, spybots, keyloggers, tracking threats, phishing, pop-up ads and many more.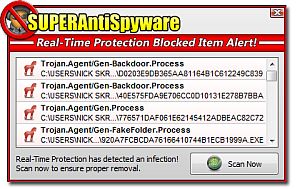 By default, this award winning free anti-spyware application checks all the windows registry files, browser cookies, running process etc deep into the folders and files. You are even allowed to customize the PC scan or else stick with quick and/or full system scan. If you are time conscious, you are allowed to schedule the scan as per your timings.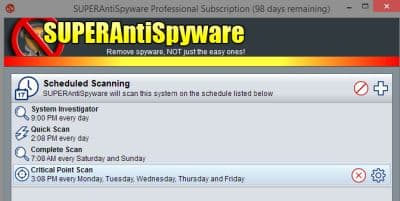 The USP of the latest version SUPERAntiSpyware is that it uses a smaller number of PC resources. This anti spyware software program with its superior technology always stays a step head in terms of spyware removal. It has a very extensive range of spyware protection features:
Detects, removes and blocks all types of spyware and adware threats.
Protection against wider range of spyware threats with virus type detection technology.
On Guard mechanism continuously monitors your PC by providing a real time pro activation.
Largest spyware signatures definition database.
Seamless increased rate of spyware detection and removal.
Easy to use smart automatic defense mechanism.
Enhanced rootkit detection and removal techniques.
Automatic updates to keep your PC safe and secured even while online.
Email notifications of scheduled scan results.
Designed for Windows XP®, Windows Vista®, Windows® 7, Windows 8, Windows 8.1, and Windows 10 Editions.
Excellent customer tech support.
30-day unconditional, 100% money-back guarantee for Professional Edition
Growing Popularity:
The latest version of SUPERAntiSpyware has included Google Toolbar installer, which is, of course, an optional. Not to speak about the popularity of the program, it is highly appreciated for its superior technology that always stays one step ahead.
With over 45 million downloads under its credit, SUPERAntiSpyware is truly the best anti-spyware software to protect identity and PC security.