Cloudways is a multisite network known for superior managed cloud hosting platform.
You don't need to be a technical geek, Cloudways is easy to manage cloud server console that has catered incredible quality services from early 2000.
There are over 91,782 highly satisfied customers including digital agencies, SMBs, and individuals all over the world.
Apart from Digital Ocean hosting, Cloudways offers other managed hosting plans with Linode, Vultr, Amazon Web Services, and Google Cloud Platform and many more. So with these flexible cloud hosting plans, Cloudways has truly established itself as an affordable web hosting company for both personal and business purposes.
Cloudways Managed Cloud Hosting for Small and Medium Businesses
One can sign up Cloudways hosting with any cloud server. Depending upon the company, the pricing varies. For example, the DigitalOcean hosting starts at $10/month whereas the Linode hosting starts at $12/month. Similarly, the Vultr hosting starts at $11/month, Google Compute Engine hosting starts at $34.17/month, and Amazon Web Service hosting plan starts at $36.04/month.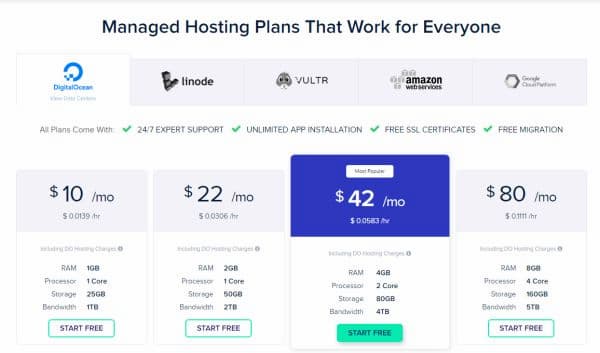 The Cloudways gives ample flexibility that one can launch multiple servers of the same or different cloud hosting plans and providers.
One thing is very clear; Cloudways has gained a good reputation in the managed cloud hosting business due to its competitive features such as …
Superior cloud infrastructure providers
Guaranteed high-speed performance
Free access to CloudwaysCDN that delivers efficient global response time
Breeze Pre-installed free WordPress Cache Plugin
Auto-Healing managed cloud servers to resolve website crashing issues
PHP 7 Ready servers with Redis support for unbeatable performance
Flexibility to launch 10+ Apps (WordPress and Magento sites) through 1-Click
1-Click free SSL installation from Let's Encrypt
2-Factor Authentication for extra safety and security
24/7/365 Real-time monitoring for peace of mind
No risk, no obligation Free trial
Above all, there is a passionate live chat support team to assist you for any issue at any time. If you need any clarification or support, then you can directly contact on their phone number or just open a 24/7 support ticket which will be attended by the concerned department.
Moreover, there's is a strong knowledge base that includes online FAQs and Active Community to address your queries.
Quite Stable & Feature-packedy Cloud Hosting

If you want multiple integrations & Add-ons then, Cloudways is definitely for you. You get a smooth workflow without any restrictions. Highly recommended for high traffic websites and SMB's alike.
In short, Cloudways affordable managed cloud hosting is known for its rock-solid infrastructure which utilises the services of 60+ unparalleled data centers for exceptional redundancy.
With Cloudways as your Affordable Web Hosting, you can expect reliable service with many user-friendly features.