Reliability is the key to success in any online business. WP Engine managed WordPress hosting service helps businesses and individuals get high-powered secure digital experience at a fraction of the cost.
WP Engine offers a comprehensive WordPress web hosting solution with full functionality to all the online business owners with a scalable architecture.
The USP of WP Engine is its highly scalable architecture that can efficiently manage traffic spikes from 10,000 to 100 million users seamlessly.
You can install the WordPress blog or auto migrate it within a few minutes that too with a couple of mouse clicks using auto migration plugin.
It is not just limited to installation of the blog; you can install CMS, discussion board, e-Commerce, conduct polls and surveys within no time.
WP Engine – A Breakthrough in Managed WordPress Hosting: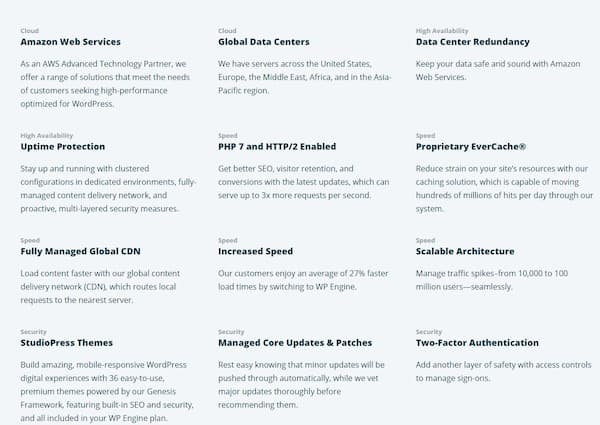 The unique features of WP Engine's affordable web hosting service are:
30 GB Local storage
Up to 400 GB Bandwidth per month
Hosting for 15 sites
Free Genesis Framework and 35+ built-in SEO StudioPress Themes
PHP 7.2 ready & HTTP/2 Enabled
Efficient management of SSH Gateway
Free Global CDN and automated traffic encryption with SSL Certificates
Automated daily backups to give peace of mind
Dedicated security engineering team meant for internal review and instant disaster recovery
High Page Performance with Uptime Protection
Excellent 24/7 chat support
Basic plan starts from $35/month to the Best Value Scale Plan $290
60-Days Risk-free Guarantee
WP Engine customer tech support is surely the best in the industry. You can approach it 24/7. The various forms of tech support include a toll-free phone number, email and real-time support.
The helpdesk is very attentive and competent even if it is 2 a.m. It has got a solid reputation for expert one-on-one help, unlike some other cheap VPS hosting solutions.
If you compare WP Engine and Cloudways, both offer reliable web hosting services. However, WP Engine scores higher especially when you are looking for hosting sites for WordPress. This is mainly due to its relative faster speed. Other than that you cannot make any differentiation in its quality.
Undoubtedly, WP Engine has got the leading WordPress digital experience platform. And thus, you can't go wrong when you're with WP Engine. This unique WordPress hosting service stands differentiated and hailed by the enterprises as the most reliable hosting site for websites.
WP Engine for Your Professional Business: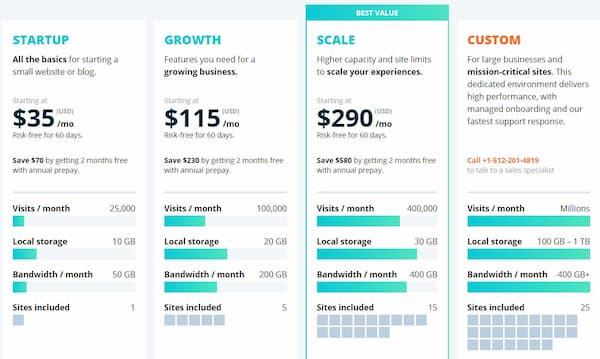 Price wise, WP Engine is on higher side but if you want to drive your business forward faster without any compromise then WP Engine is a must have WordPress hosting solution.